Customer Reviews
02/21/2021
Karen K.

AU
heaven in a jar 💕
it's a lush treat for my fave in the evening x it goes on well and hydrates beautifully
Hi Karen, thanks so much for sharing your thoughts on Jelly Ko's Bubble Tea Steam Cream! We're so glad to hear it's a favourite - STYLE STORY
02/21/2021
Emily C.

AU
Never been so glowy!
The texture of this cream is perfect. I use it morning and night and my skin has never looked better. My skin is more clear and super radiant. I have dry, dehydrated skin and highly recommend for those with a similar skin type.
Hi Emily! Thanks so much for sharing your review for Jelly Ko Bubble Tea Steam Cream. Glad to hear you're experiencing the glow too - STYLE STORY
02/03/2021
Anonymous

AU
Love it!!!
The smell, texture and overall feel on my skin is amazing. It's moisturising but not sticky or thick. Love it!!!
01/11/2021
Tita B.

AU
Oh my Wow!
I got two sachet samples of this with my other orders. Curious and not wanting to waste, I used the samples without expecting results on my matured and very spastic skin. And oh my wow! My skin looked plumped, hydrated… healthy – and stayed that way all day! My skin suffers from pre-menopause that changes from normal to oily to dry to combination within 24hrs (!!) and just for fun I get red/dark spots even acne at times too, which I never got when I was young. After using this, not only did it calmed and 'loved' my skin, it looks and feels like how it was 5-8 years ago. Thank you! My birthday is soon so I told my sons I want this, to which they cheered, as repeatedly they say Im impossible to buy a gift for. Ive also sent link via txt and their emails and social media messages. Having just sons and knowing my sons, ll call to remind them close to my day... as Mum, I need to be sure they stay cheerful (ofcourse).
01/10/2021
Jacqui H.

AU
Can't stop using this. Melts into skin te,
I have over 100 products, all the best of korean skincare. This moisturiser has gone straight to number one. Everything about it is perfect, from the ingredients, to the formulation, to the finish. This is like a whipped yoghurt/butter texture, and melts into the skin without going slippery snd slidey like you'd expect. It's like your skin is inhaling the nutrients from this cream. I have oily skin and this gives a glowy finish, but doesn't make me oily, or break me out. Beautiful under the eyes too, and not so heavy, so it didn't give me milia, and lay down beautifully under concealer. This review sounds too good to be true- but honestly the creators of Jellyko have genuinely paid attention to what consumers want, and also what works. For me to have over 100 skincare items, and this to be my favourite moisturiser, it is something pretty special.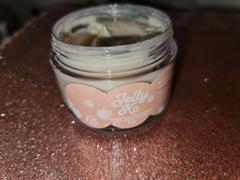 12/29/2020
Anonymous

AU
Loooove it
Smells divine and makes my skin so plump in the morning!
Thanks so much for sharing your thoughts on Jelly Ko's Bubble Tea Steam Cream >3
12/28/2020
Monique M.

AU
Beautiful cream
The rich creamy jelly feel like cream is so soothing and hydrating. It instantly calming and giving me a boost of hydration. The texture is rich yet doesn't feel heavy at all. I love how it felt so smooth on my skin and not sticky. It plays well with other serums and no pilling. Overall I love this cream very much.
Hi Monique, thanks so much for sharing your thoughts on Jelly Ko's Bubble Tea Steam Cream! We're so happy to hear that you love it!
12/15/2020
Joanne M.

AU
Jelly Ko Cream
It was very nice to apply however as I have sensitive skin it became irritated and I had to stop using
11/30/2020
Lexi

AU
Where have you been all my life?!
Obsessed. Completely obsessed. I want to slather myself in it. It instantly soothes, brightens and hydrates my skin and makes it look alive.
Thanks so much for sharing your thoughts on Jelly Ko's Bubble Tea Steam Cream >3
Love Love Love this
I'm always cautious buying things like this, however WOW. I love this cream. My face loves this cream. And the comments I'm receiving are great. Do you have this type of cream for hands and arms?
Hi Vanessa, thanks so much for sharing your thoughts on Jelly Ko Bubble Tea Steam Cream. We're so pleased you are receiving compliments about your skin! - STYLE STORY