Customer Reviews
02/08/2021
itsjustkrystle

AU
Give your skin that juicy bounce
I love a good sleeping mask and this one is top notch. It has some amazing skin care ingredients and made my skin soft, hydrated and radiant. It has a gel like texture that melts into a water gel in contact with the skin. The gel itself has a light floral fragrance that is not noticeable difference when on the skin. I enjoyed the experience of using this night mask as it felt light, yet moisturising on my skin and had a cooling sensation when applied. It came with a sturdy mask spatula that made application sanitary. The spatula is so useful for masks and other skincare products as you can wash it between uses.
02/06/2021
Dana

Australia
Jelly Ko for the win again!
I've been using the mask every night as the last step of my evening routine. It has a beautiful gentle fragrance and the gel itself just glides across your face. A little goes a long way. The product settles fabulously on top of other skin care products and once applied you don't know you're wearing it. Not at all heavy or sticky. I felt like Cherry Blossom just "locked and loaded" my skin for the night! Every morning I wake up and my skin feels good, not overly tight or dry. Based on this, I would definitely say that the mask does in fact boost skin hydration! A fabulous sleeping mask!
Hi Dana! Thanks so much for sharing your review of Jelly Ko Cherry Blossom Sleeping Mask - we're so glad this is a hit product for you. STYLE STORY
02/06/2021
Jaslyn

AU
I adore this sleeping mask!!
I have found that this mask works best on its own due to the amazing ingredients it has: niacinamide, panthenol, hyaluronic acid (sodium hyaluronate), etc. Every night, I slather a generous amount of this on my face and I have never had such a glass skin glow!! This is definitely a product I'd recommend to friends due to it's all-rounder ingredient list and DELICIOUS scent x A must have!! >3
Hi Jaslyn, thanks so much for such a detailed review of Jelly Ko's Cherry Blossom Sleeping Mask. Glad to hear you're getting your glass skin glow on 😍 STYLE STORY
02/03/2021
Connie

United States
Super Hydrating Mask (No Mess)
I have tried sleeping masks before and I would say this is comparable to the Laneige Water Sleeping Mask! The texture is a little bit on the thicker side, but is actually great because I didn't have to use as much product for it to spread on to my entire face. It is scented, so it might not fit those with sensitive skin, but I found it to be a pleasant enough scent to continue using it. I used it 2-3 times a week, and every time I woke up the next morning, I would find my skin to be super hydrated and soft after washing it off. To test it, I even washed my face afterwards with what I consider to be a pretty stripping cleanser and my skin would still feel hydrated and plump. Another plus is it's mess free! It didn't get on my pillowcase or sheets at all. Love this and will definitely consider repurchasing once mine runs out! :)
01/30/2021
rivetlicker

AU
So happy!
I was picked as one of the lucky testers for this product because I thoroughly enjoyed the Bubble Tea Steam Cream and I had high hopes for the Cherry Blossom Sleeping Mask. This stuff smells amazing and it has a silky gel texture. I've been using it every evening and I've been testing different application methods - I use it as the last step in my routine. So far, I prefer to apply a thin layer like I would a moisturiser because a thick layer is too sticky and too much for me, especially around my neck and dec area. I did get an applicator, but I use it as a scoop and massage the product in with my fingers. The product does sink in after a while, and by morning, there's no trace of it (doesn't matter how much I use). I wake up with very hydrated, bouncy skin. If you have oily skin, you could just use this as a standalone product, but if you're dry, definitely use an emollient product underneath.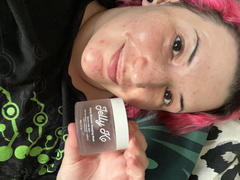 01/08/2021
Q

AU
What is this magic?
Absolutely in love with this sleeping mask, as are my friends that I gifted this to for Christmas. As the last step in my night skincare routine, it never fails to cool everything down and help me look fresh the next morning. Highly recommend this beautiful sleeeping mask.